Ready to get started? Download the application and step-by-step guide below.


Admin By Request integrations are intended to make your life easier by incorporating core features of our security solution into other tools that your organization uses on a day-to-day basis.
Microsoft Teams is one of these popular, everyday tools. Organizations use it for video conferencing, instant messaging, and file and application sharing.
With our latest integration, your users can now use Teams for more than just communication; they can approve or deny Requests for administrative access via a dedicated Teams channel.
What the Integration Offers
Instead of navigating to your Admin By Request User Portal to manage Requests, you can now manage them directly from a dedicated Teams channel. Requests will appear in the channel, along with the user details and reason for request, to be approved or denied from there.
✔ Save Time and Training Resources: Your IT admins no longer need to familiarise themselves with a new software or the Admin By Request User Portal in order to use the tool.
✔ Increase Productivity: Users who require elevated access will gain it immediately, with Requests being sent to an everyday tool for approval rather than a separate, unfamiliar software.
✔ Reap Security Benefits Immediately: Instead of waiting for a new tool to be integrated into the company's IT Department.
How it Works
Create a dedicated Teams channel and add the users you want to be able to approve or deny Request.
Download and install the app we've created for the integration, and add it to the Team.
Create an API Key for the integration in your Admin By Request User Portal, and plug it in to the pre-configured app.
That's it – Requests will now appear in your dedicated Teams channel.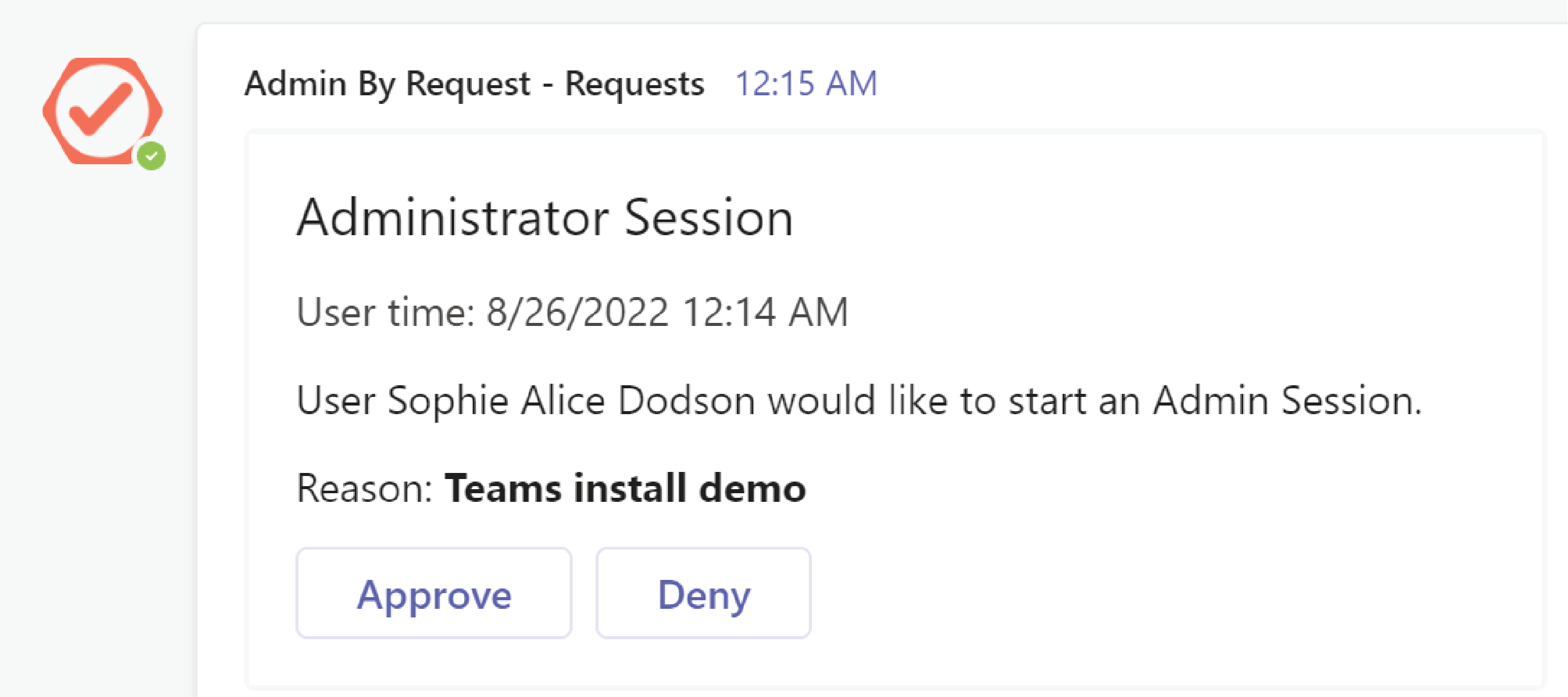 Is it Right for Your Enterprise?
If you're looking to improve your IT admins' workflow and increase end user productivity, integrate the Requests It's never been easier to improve your IT admin workflow and end user productivity by adding the Requests feature to your existing Teams environment with this integration – and it's completely free as part of your Admin By Request plan.
Get started with the self-service manual at the top of this page.
Something Amiss?
If you've identified a bug or have a suggestion for this integration, head to the Contact page and let us know.