Ready to get started? Download the step-by-step guide below.

For many of our customers, Slack is the go-to when it comes to team communication.
And that's not surprising, considering its intuitive User Interface, file and resource-sharing capabilities, cross-platform and cross-device functionality, and versatile chat room and messaging options (such as grouping chats by topic).
But the biggest plus for Slack (in our humble opinion) is its ability to easily integrate with other apps to make life easier for its users – and that's where we come in.
What the Integration Offers
We've set up an integration that lets you access the staple feature of Admin By Request's Privileged Access Management (PAM) solution from directly within your Slack environment: the Requests feature.
When your users request privileged access, their details and reason for needing access are sent to you via Slack to be approved or denied on the fly – removing the need for your IT Admins to log in to the Admin By Request User Portal just to approve Requests.
Increased productivity for your end users + less admin for you? Check ✔
It's important to note that the access provided to users through our integrations override User Portal settings. Once you've configured the Slack integration, all users with access to the Slack channel created in the integration will have the ability to approve or deny requests via Slack, regardless of whether they have been granted these abilities in your Admin By Request User Portal Sub-Settings. Ensure that you only add the integration to internal channels and give access to authorized users.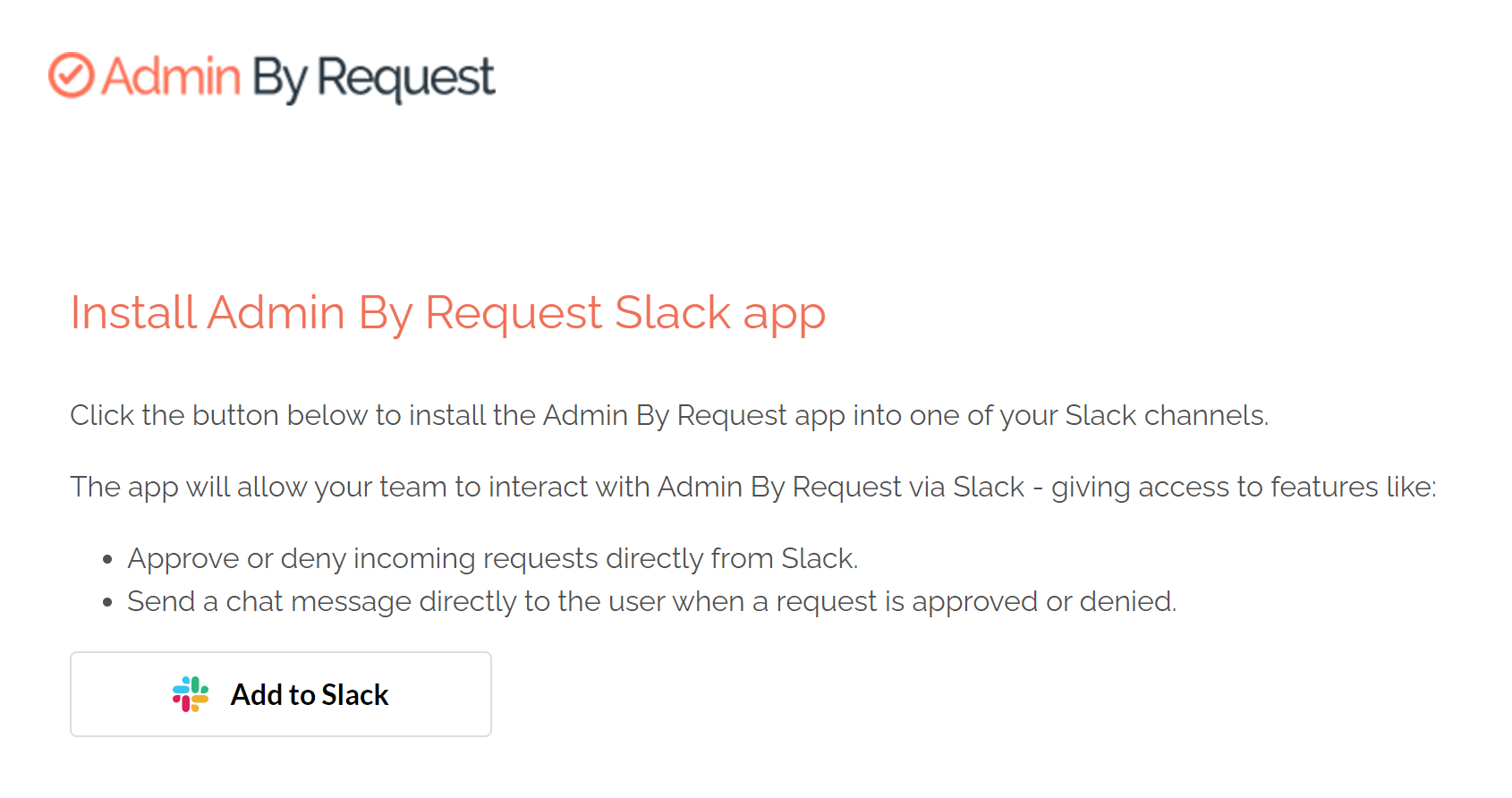 How it Works
The integration uses your Admin By Request API Key to connect to our custom Slack application, which then posts Request data in a dedicated Slack channel.
The app comes ready to go – all you need to do is create a channel, add the app, and plug in your API Key.
Requests for admin access will then be sent from your User Portal, directly to the dedicated Admin By Request channel in Slack, to be viewed, approved, or denied.
For end users, the app keeps a log of previous Requests, detailing what the request was for, the date, time, and outcome.


Is it Right for Your Enterprise?
It's never been easier to improve your workflow and end user productivity by adding the Requests feature to your existing Slack environment with our latest integration – and it's completely free as part of your plan.
Get started with the self-service integration manual below.

Something Missing?
If you've identified a bug or have a suggestion for this integration, contact us here and we'll see what we can do.