Linux users: it's your time.
Download Admin By Request for Linux today and ensure every endpoint is covered by comprehensive Privileged Access Management Software – no matter the operating system.
Ready to get started? Download the Linux Client from your Admin By Request User Portal.
The Linux kernel provides arguably the most flexible, stable, secure, and lightweight operating systems on the market, but is still a bit of a niche choice for computer users and organizations.
A key factor attributing to Linux's considerably lower market share (2.15% as of October 2021) compared to OS giants, Windows (75.18%) and macOS (15.89%), is the perceived – and often actual – lack of compatibility of much-needed software solutions with Linux-based systems.
That's not to say there aren't thousands of applications available for Linux, but finding a comprehensive security solution that also meets compliance requirements can easily turn into a cumbersome task when you have to factor in Linux endpoints.
So in all fairness, from a business-owner's perspective, it makes sense to avoid any potential compatibility issues by choosing Windows or macOS over Linux.
Our latest software release makes the choice easy – by taking it away.
Whether you've got a hoard of Linux-based endpoints, or just a couple of developers who simply prefer Ubuntu over Windows – they can now receive the same protections afforded to their larger OS counterparts with Admin By Request's Privileged Access Management solution for Linux.
Features
The Linux release aims for simplicity while still offering effective Privileged Access Management.
With it you get Admin By Request's core Admin Session feature, which gives users the ability to request a period of administrative activity on a Just-in-Time, as-needed basis.

When the session is granted by an administrator and then self-initiated by the user, the user can undertake multiple activities that require elevated privileges, with all activity details logged in the Admin By Request Auditlog feature.
As with the macOS and Microsoft Windows versions, Linux Client settings are fully configurable from within the Admin By Request User Portal.
Administrator sessions can be requested with or without providing user details and a reason for the request, and you have the ability to disable the 'Require Approval' function completely. The duration of the Admin Session can also be adjusted within your User Portal Settings.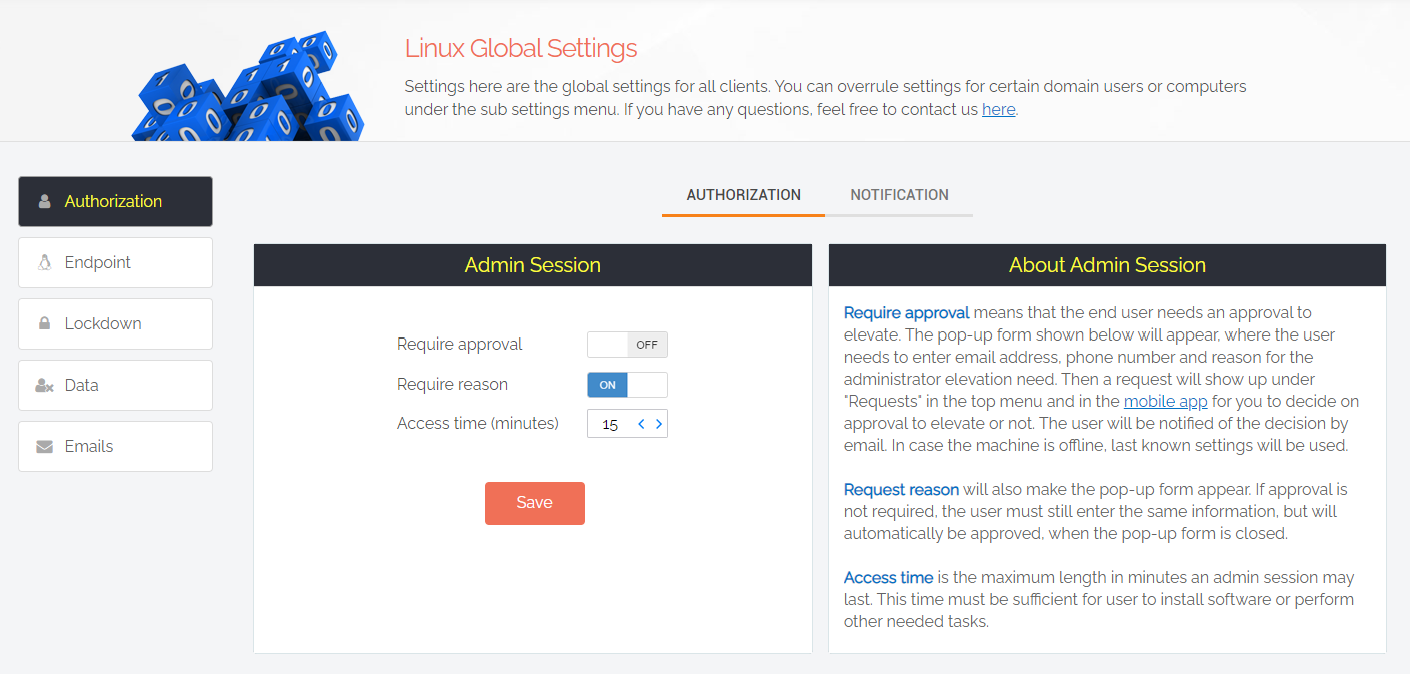 During Admin Sessions, Installed and uninstalled applications are tracked using the APT package management system, which is activated when the Admin Session is initiated, and deactivated at the end of the session.
Automatic software updates are also available via the standard APT package management system.
The Benefits
There's a lot to like about the latest release:
Lightweight: Like the OS it's built for, Admin By Request for Linux is quick and easy to install and offers a 'no-frills, no-fuss' PAM solution: covering the fundamentals of Privileged Access Management.
Flexible: If you've got a mixture of OSs in use at your organization, this release gives you the ability to manage multiple solutions under one tenant – eliminating the need to choose between operating systems, or implement multiple security solutions to cover them all.
Ticks the Boxes: Whether you're after a comprehensive PAM solution, or simply need to meet certain compliance requirements relating to cybersecurity, Admin By Request for Linux achieves both.
It's Free: Like open-source Linux software, this latest release is available on a lifetime plan, completely free, for up to 25 endpoints.
Supported Environments
Version 1 of Admin By Request for Linux supports:
Ubuntu 20.04 (Focal Fossa) LTS
The GNOME and KDE Plasma desktop environments
The Polkit security sub-system
Further support for other Linux-based operating systems will be made available in subsequent releases.
Getting Started with Linux
Installation and set up of the Linux Client is achieved in three simple steps:
1. Download Linux Workstation Edition from the Download page in the User Portal
2. Open a terminal window and execute the following commands on the downloaded install script:
$ chmod +x abr-installer
$ sudo ./abr-installer
3. Configure desired settings in the Admin By Request User Portal
Coming Soon
Key features to look out for in the next Linux release include application-tracking for apps installed using the Snap Store or Flatpak, and handling of the Sudo security subsystem.
Download Admin By Request for Linux via your User Portal: Top Menu > Download > Download Client for Linux.
Or, if you're not already a customer, get started with our Free Plan.